You can use life insurance to pay for final expenses, estate taxes, or leave an estate for the use of your heirs. Here are some policy types to choose from:
Term insurance has no cash value, so its premium covers only the risk of death during that year. Many insurance companies offer level premium term insurance. Premiums may remain level for a period of 5, 10, 15, 20, 25 or even 30 years. These policies are inexpensive and can provide relatively long-term coverage.
Some level premium term policies contain a guarantee of level premiums, while others do not. Without a guarantee, the insurance company can surprise you by raising your premiums even during the time you expected your premiums to remain level. Make sure you understand the terms of your policy.
Return of premium term insurance (ROP) is a new type of coverage that generally combines low, term-like premiums with a guaranteed refund of the premiums paid during the level term period, assuming the insured is still living at the end of the level term. They are often significantly less expensive than permanent types of insurance. But, like many permanent plans, they may still offer cash surrender values if the insured does not die.
Whole Life Insurance is a form of permanent insurance. It is designed to remain in effect throughout one's lifetime. Generally, the premiums for this type of policy remain the same throughout the life of the insured. During the early years of the policy, premiums are much higher than those of term insurance policies. That is because these policies develop a cash value which the policy owner can access through surrenders or policy loans.
Universal Life Insurance differs from Whole Life in that it distinguishes and itemizes the protection element, the expense element, and the cash value element. This adds more policy flexibility for the policy owner to modify the face amount or the premium in response to changing needs and circumstances.
A survivor or second to die insurance policy, offered either as Universal Life or Whole Life, pays a death benefit at the later death of two insured individuals, usually a husband and wife. That way it can pay estate taxes when they occur - at the second person's death. Most individuals arrange to pay little or no estate taxes at the death of the first person because of the unlimited marital deduction in the estate tax. This coverage is widely used because it is generally much less expensive than individual coverage on either spouse.
Except for term insurance, all of the other types build up a cash value and are designed to last your entire lifetime.  While there have been some writers that argue term is best (because the premiums are lower), It is temporary and will likely run out before you die.  Therefore, you can ask yourself, would you rather rent your life insurance (term life) or buy it (cash value life insurance).  This decisions is not very different than renting or owning your home.
For many families, permanent insurance with cash value has proven to be the better investment. As with any financial opportunity, look not only at the cost but the combination of cost and benefit to decide.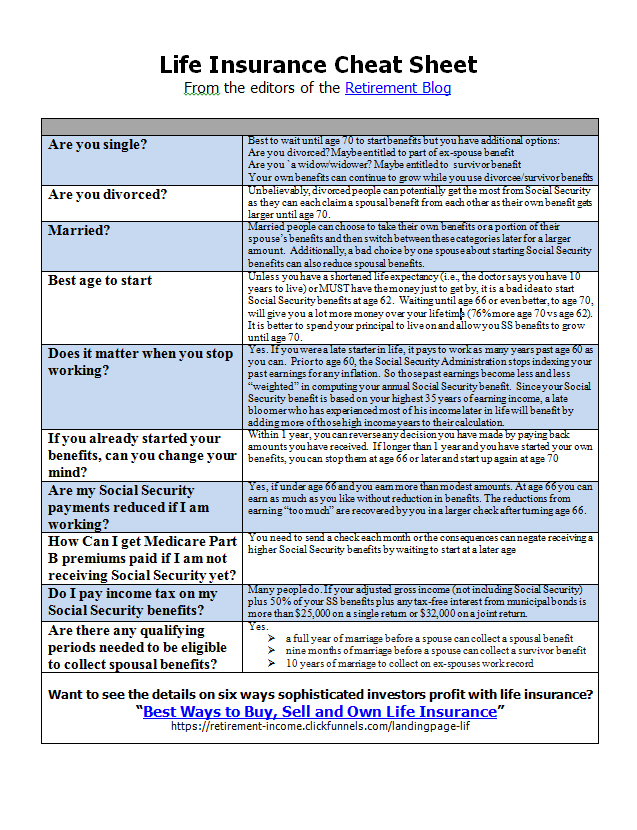 Everything You Don't Know About How to Use Life Insurance to Make Money
Five ways that wealthy people use life insurance to retain and create wealth
How to convert an existing life insurance policy into more money than the insurance company valuation
Why you never want to be the owner of a policy that insures you
A huge and common mistake when selecting a life insurance beneficiary
They don't talk about these "insider" strategies on CNBC or in Money magazine. Get the free guide to open up a new horizon of financial awareness.