All too often retirees find themselves doing last minute estate planning. One instance is when they realize that eventual long term care costs may wipe out their assets and rob their ability to leave something for their kids or spouse. Though eligibility for Medicaid is state dependent, it is designed for seniors who have a very limited income and few assets. So to be eligible you'll have to give away assets long before you seek eligibility or spend down your assets under Medicare until you're assets are low enough for Medicare to pay. However, a single premium no cash value life insurance may represent a possible solution to this dilemma.
In recent years, life insurance companies have designed policies aimed at people over age 70. These policies provide more death benefit and less cash value. Some term policies and certain universal life permanent policies can provide a guaranteed death benefit up to age 95 with a guaranteed premium and no cash value at all. Such policies can give more death benefit for each premium dollar spent.
What's important here is that single premium life policies with no cash value and purchased years in advance of applying for Medicaid can help preserve a legacy. The death benefit goes to the beneficiary. Medicaid only counts as an asset the cash value of a policy when it is greater than $1,500 . Such a policy can count towards the asset test and could disqualify a Medicaid applicant.
So a person could have $800,000 of life insurance with cash value less than $1,500 and still be eligible for Medicaid. Any cash value of more than $1,500, though, would apply toward the asset test.
States administer their Medicaid programs. They differ somewhat on restrictions. So, be aware of your state's rules on transferring assets to a life insurance policy while applying for Medicaid and in the 'spend down' phase. You don't want to be in violation of any rules that may disqualify you.
Creating a last minute estate through life insurance with some of your assets can let you use the rest of your assets for long term care needs in the future. Your then assured that your children or a surviving spouse will receive some inheritance. And if the money does run out and Medicaid has to start picking up the costs, a single premium life insurance policy with less than $1,500 cash value will usually not disqualify you.
Note: The purchase of life insurance involves costs, fees, expenses and potential surrender charges and depends on the health of the applicant. Not all applicants are insurable. If a policy is structured as a modified endowment contract, withdrawals will be subject to tax as ordinary income and withdrawals prior to age 59 ½ are subject to a 10% penalty.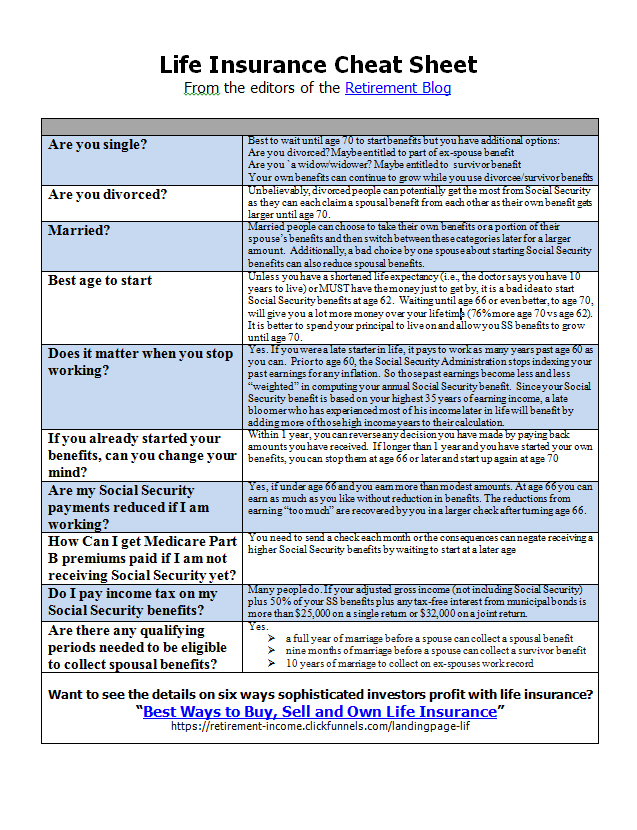 Everything You Don't Know About How to Use Life Insurance to Make Money
Five ways that wealthy people use life insurance to retain and create wealth
How to convert an existing life insurance policy into more money than the insurance company valuation
Why you never want to be the owner of a policy that insures you
A huge and common mistake when selecting a life insurance beneficiary
They don't talk about these "insider" strategies on CNBC or in Money magazine. Get the free guide to open up a new horizon of financial awareness.