As the years pass by, you may feel that your need for life insurance has passed. Your children are grown, and you' may have paid off your mortgage. Moreover, you may have accumulated enough assets so that your spouse won't be left destitute if you die.
Think again.
If you died today, your spouse would still be faced with daily living expenses-for 10, 20, or even 30 years. Without life insurance, would he or she be able to pay off your obligations, maintain the lifestyle you've both worked so hard to achieve, and pass on something to your children and grandchildren?
The fact is, many people, particularly retirees, don't understand the reasons to have senior life insurance, and therefore underestimate their need for it.
For example, depending on the size of your estate, your heirs could be hit with a large estate tax bill after you dieup to 48% of your estate, depending on where you live. Enter life insurance. Life insurance proceeds are generally free of income tax, and can be set up so they avoid probate. As a result, your life instance policy can potentially pay out immediately upon your death, allowing your heirs to pay those estate taxes, as well as funeral costs and other debts, without having to liquidate other assets. And if your life insurance policy is properly structured, the proceeds from it won't add to your estate tax liability.
Moreover, if your circumstances change and you no longer have anyone who would need the proceeds of a life insurance policy, you may be able to surrender the policy and supplement your retirement income with the funds that have accumulated in the policy's "cash value account."
So, how much life insurance do you need as a retiree? That depends on how much your family will need to meet general obligations upon your death (such as medical costs, funeral expenses, and estate settlement bills), as well as how much future income your family will need to sustain them. The latter is tricky to calculate, because it involves calculating the present value of future needed cash flow streams.
This article is not intended to provide tax or legal advice and should not be relied upon as such. It is a summary of our understanding and interpretation of some of the current laws and regulations and is not exhaustive. Investors should consult their legal or tax advisor for advice and information concerning their particular circumstances.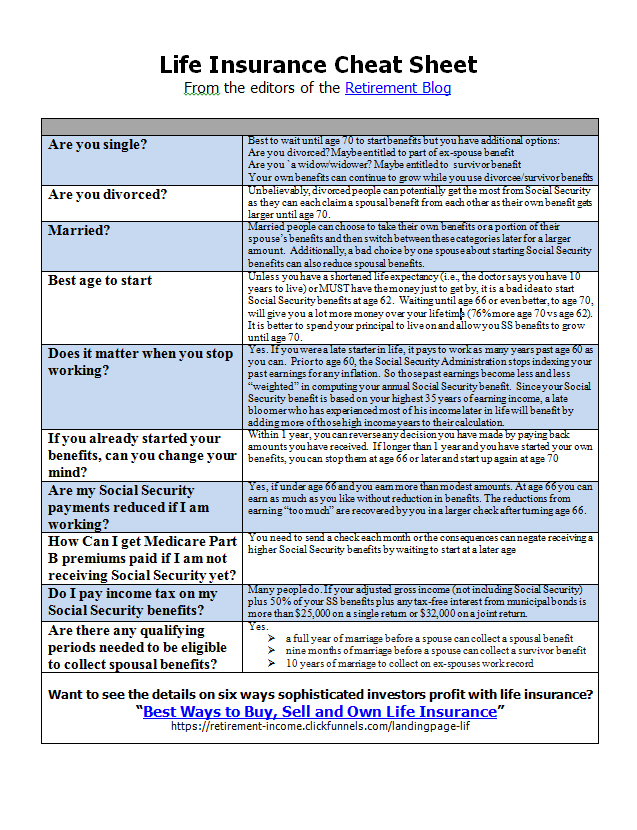 Everything You Don't Know About How to Use Life Insurance to Make Money
Five ways that wealthy people use life insurance to retain and create wealth
How to convert an existing life insurance policy into more money than the insurance company valuation
Why you never want to be the owner of a policy that insures you
A huge and common mistake when selecting a life insurance beneficiary
They don't talk about these "insider" strategies on CNBC or in Money magazine. Get the free guide to open up a new horizon of financial awareness.