Selling your life insurance policy is known as making a 'life settlement'.
Life settlements are one option for life insurance owners who no longer feel their policy serves their interest and want to sell a life insurance policy. Rather than letting their policies lapse or surrendering them for a mere fraction (perhaps three to five percent) of policy face values, owners may be offered life settlements worth much more – maybe three to four times more - than the cash surrender values.
In recent years, secondary market for life insurance policies has emerged as companies have raised pools of capital for purchasing policies, but that market is not yet transparent. Brokers who represent policy sellers solicit multiple bids from life settlement providers. Providers derive their financial backing from institution funders such as prominent investment banks and hedge funds.
Life settlement providers competitively bid on the purchase of an existing policy – taking into account the insured's age and state of health. The provider's return, of course, is the death benefit of a policy when the insured dies. His cost is the settlement amount paid to the life insurance policy owner as well as any premiums still to be paid on the policy.
Typical steps in a life settlement process are:
1. Informed interest - The policy owner and his financial advisor have determined that a life settlement is a suitable option. This determination should include resolving
i) Ongoing life insurance needs - When considering buying a new policy with the proceeds of a life settlement, it should be determined whether a new policy can be obtained with equivalent coverage and at what cost;
ii) Determining a fair price - Since there is no transparent secondary market for life insurance policies, consideration will have to be given to how to determine if a fair price is offered for a policy;
iii) Tax Consequences - The tax consequences of a lump sum payment must also be considered;
iv) Transaction costs - Commissions paid by life settlement companies to life settlement holders and other financial providers can be high, thus this issue must also be considered;
v) Privacy concerns -Before accepting any offer from a life settlement company, consideration must also be given to the procedures in place to protect the confidentially of medical and personal information.
2. Application - The policy owner completes a settlement application and provides necessary documentation.
3. Documentation - The settlement provider acquires the documentation, verifying insurance and medical status.
4. Review - The settlement provider's insurance and medical experts review the file and determine the ultimate viability of a settlement, including a review for potential fraud.
5. Policy Match - The settlement provider determines the suitability for sale, and matches the policy to an appropriate funding agent. He may also determine that the settlement does not qualify and therefore ends the process.
6. Offer - the settlement provider relays the offer to his ultimate buyer. If the offer is declined, the policy holder can seek other offers with other settlement providers.
7. Closing package - If the offer is accepted, a closing package is delivered to the advisor or client for review and signatures.
8. Notification – Signed documents are returned and the insurance carrier is notified.
9. Funds Transfer - Upon written verification of change of ownership, settlement funds are transferred to the selling policy owner from the trustee's escrow account.
From then on, the new policy owner will pay premiums and collect the death benefit when the insured dies.
Life settlement regulations are state-dependent. They apply to licensing rules and whether broker and providers must provide certain legal disclosures such as information, guarantees, and protections - during the settlement process. Check out what regulations apply in your state.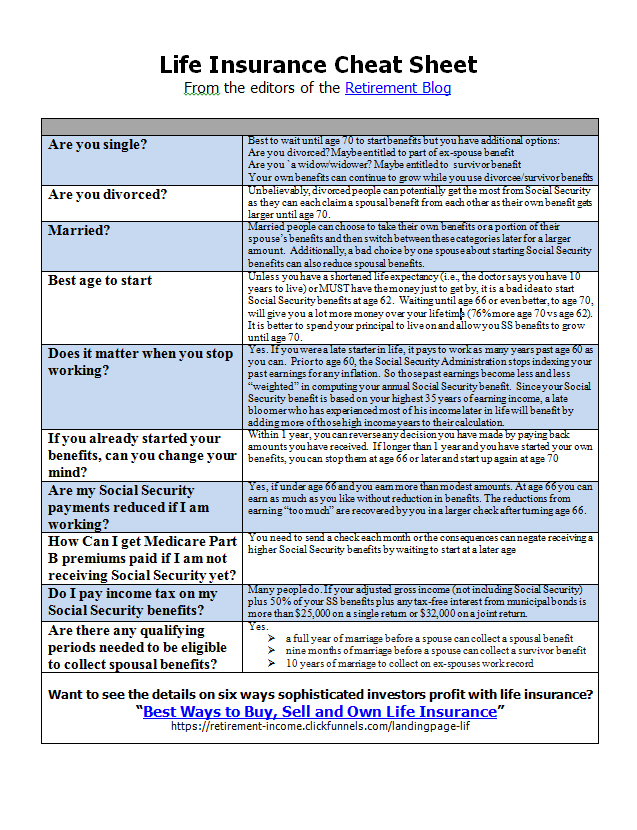 Everything You Don't Know About How to Use Life Insurance to Make Money
Five ways that wealthy people use life insurance to retain and create wealth
How to convert an existing life insurance policy into more money than the insurance company valuation
Why you never want to be the owner of a policy that insures you
A huge and common mistake when selecting a life insurance beneficiary
They don't talk about these "insider" strategies on CNBC or in Money magazine. Get the free guide to open up a new horizon of financial awareness.