We use life insurance to meet our family's need in the event of our death. But as we move through different phases of life, we require our life insurance to meet the changes that arise. This is true even through our retirement years.
Part of the cost of life insurance includes the insurer's cost of evaluating the risks of insuring you specifically. It's called underwriting. If your life insurance needs change, rather than beginning an entirely new police with all it attendant costs, you can often find a rider policy to add to your base policy for a premium. Using riders can be an economical alternative since most of the underwriting costs were absorbed in your base policy.
Rider policies can provide all sorts of additional insurance benefits. However, you must read each rider policy carefully to see what exact conditions need occur for you to receive its benefit. The precise coverage, conditions, terms, and premium rate for each rider varies among different insurers. Often, too, when a rider claim is made - for certain types, it can terminate its future use while the base policy remains in effect.
Below we'll look at four popular riders and suggest what to watch out for.
The Guaranteed Insurability Rider is also known as the renewal provision. It allows you to purchase additional insurance coverage during a stated period without taking more medical exams.
You can use this rider whenever your insurance needs increase. Perhaps you'll require more insurance for estate taxes or funeral needs. Also if your health declines, you needn't worry about passing the medical exam. Watch out, though, this provision may terminate at a certain age.
Waiver of Premium Rider provides that future premiums are waived if you - as the insured - become permanently disabled or lose income as a result of injury or illness prior to a specified age. Watch out for what the insurer means by 'totally disabled'. This can be different from the social security disability definition.
The Family Income Benefit Rider provides continuous family income upon your death. You'll want to work out just how long and how much income will be required when you implement it. Watch out for inflation effects to your policy. Also you may want to simply increase the base coverage to allow your spouse to determine how best to take the death benefit.
An Accelerated Death Benefit Rider allows you to use some of your death benefits if you're diagnosed with a terminal illness that considerably shortens your life expectancy. You may be able to receive some 25 to 40% of the base policy's death benefit. Watch out for what definition of terminal illness your insurer uses. It may be more difficult to access this benefit than you anticipate.
There are lots of other riders available - ask your agent.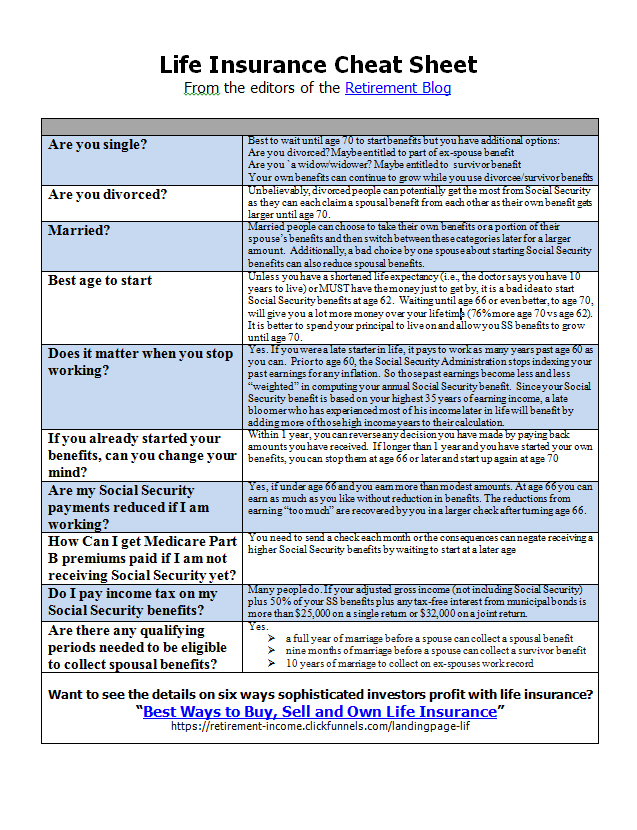 Everything You Don't Know About How to Use Life Insurance to Make Money
Five ways that wealthy people use life insurance to retain and create wealth
How to convert an existing life insurance policy into more money than the insurance company valuation
Why you never want to be the owner of a policy that insures you
A huge and common mistake when selecting a life insurance beneficiary
They don't talk about these "insider" strategies on CNBC or in Money magazine. Get the free guide to open up a new horizon of financial awareness.