As you begin retirement, you may choose life insurance to payoff your bills, estate taxes, take care of a spouse or create a legacy for your love ones at your death. Whatever your reason, the benefits of life insurance comes at a cost; and that cost is the premiums you pay. Those are determined by your life insurance rating or what the life insurance company thinks your life expectancy is when you apply.
What is a life insurance rating? It is the extra risk (over and above "preferred" defined below) that the insurer has calculated for insuring you and the extra cost they must charge you.
Will you have to supply information about your health?
Yes. In addition to medical tests, which help to classify your life insurance rating, they'll ask for some basic medical history on you, your parents and siblings.
With an awareness of your health situation and family medical history, they'll determine what risk group you are in to ascertain an appropriate premium for you to pay. Recognize that the longer you live, the smaller your premiums need to be to pay for a given benefit amount.
Insurance companies generally divide us up into four life insurance rating groups: preferred, standard, substandard, or uninsurable.
Preferred -You are a low risk. You're not sick; you don't have a high-risk job or hobby; and you've a clean bill of health. You pay a lower premium.
Standard -You are an average risk. You may have had some health issues in the past, but don't have a terminal illness or a high-risk job or hobby. You pay an average premium for similarly situated "insureds".
Substandard - You have a high-risk job, such as a pilot, scaffold worker or diver; or you have a chronic illness like diabetes, heart disease or high blood pressure. You pay a higher premium.
Uninsurable - You have a terminal illness. You will have a hard time finding an insurer to sell you a policy. You are a high risk. In actuality, you are not rates at all as rating implies that the policy will be issued at a higher cost than preferred.
In actuality, one insurance company's rating for you may not be the same as another's. That's why it pays to shop around. If you've had an illness or health condition, you may want to work with a professional who deals with people in similar situations. He'll get you quotes from many different insurance companies right from the get go. However, once you've been rated "substandard", you must disclose that to all the other insurance companies when you apply for coverage.
Curious about your life expectancy?
For decades, actuaries and statisticians have been tracking average life expectancy and the factors that tend to increase or decrease life expectancy and determine your life insurance rating. Our sex and genetic make-up are key factors in predicting longevity. Other factors - habits of health and activities - are within our ability to change. Check out what the statistics show for you at http://gosset.wharton.upenn.edu/mortality/perl/CalcForm.html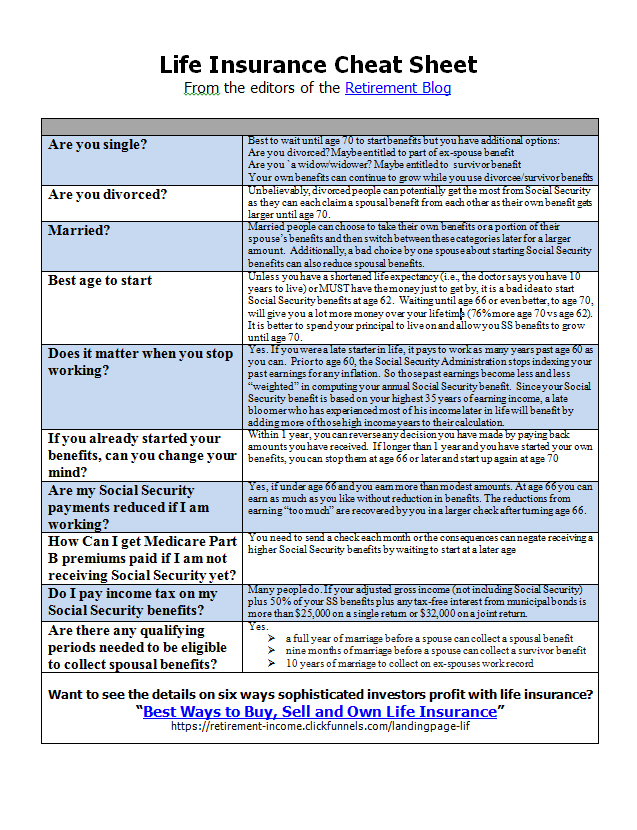 Everything You Don't Know About How to Use Life Insurance to Make Money
Five ways that wealthy people use life insurance to retain and create wealth
How to convert an existing life insurance policy into more money than the insurance company valuation
Why you never want to be the owner of a policy that insures you
A huge and common mistake when selecting a life insurance beneficiary
They don't talk about these "insider" strategies on CNBC or in Money magazine. Get the free guide to open up a new horizon of financial awareness.