What you pay for insurance depends on your age, weight, health and habits. Insurance companies have statistics on how each of these factors affect the premiums you pay.
If you have perfect health, don't smoke and don't like to skydive off tall structures, you can probably go after an inexpensive policy for your age. But what if you're not perfect? What can you do to minimize premiums?
Clean up your act.
Exercising, keeping your weight down, and not smoking will improve your sense of well-being. That in itself is its own reward.
However, survey insurance companies to see just how much your premiums drop for qualifying as a non-smoker and bringing your weight down. That may be an added incentive along with your insurance need to clean up your act.
Negotiate for a lower premium because the statistics don't correspond to your situation.
Perhaps you do have an occasional smoke. Other than that, you may be in excellent condition. Perhaps you run every day as well. Argue that the smoking statistics are for heavy smokers who don't exercise. You may be able to convince the insurance company to lower your premiums based on your better health status than your initial profile would reveal.
If you do have a particular type of disease, you can search for insurance companies that specialize in them. For heart disease, cancer or other "impaired risks," some companies offer competitive rates. That's because these companies employ underwriters who are trained to analyze the seriousness of a specific disease.
So instead of lumping all diabetics into one group -as some companies do - they rate differences between, say, diabetics who take their medication regularly and diabetics whose disease is out of control. A person whose disease is under control could save as much as 50% on a premium.
Buy insurance at regular amounts
If you're going to buy $235,000 of coverage, you might as well buy $250,000. That's because companies set their premium costs per $1,000 of coverage for specific ranges as coverage and their cost per $1000 coverage for $100,000 to $249,999 will be greater than for $250,000 to $499,999. As a result buying $250,000 may be comparable to buying $235,000.
Stay away from 'riders' that have little chance of occurring
The accidental-death rider is an example. For about $1 or $2 per $1,000 of coverage, an insurance company promises to pay your survivors double the face amount of a policy if you die in an accident. You will die but how you die is speculating. Accidental death is relatively rare. Buy just enough coverage to achieve the purpose for which you're getting life insurance.
Note: The purchase of life insurance involves costs, fees, expenses and potential surrender charges and depends on the health of the applicant. Not all applicants are insurable. If a policy is structured as a modified endowment contract, withdrawals will be subject to tax as ordinary income and withdrawals prior to age 59½ are subject to a 10% penalty. Also note that withdrawals will have the effect of permanently decreasing the death benefit.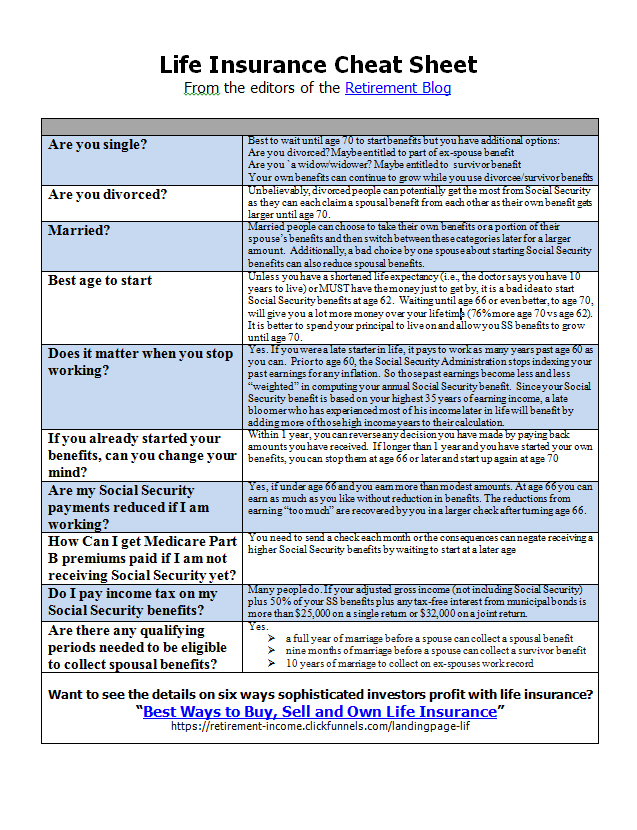 Everything You Don't Know About How to Use Life Insurance to Make Money
Five ways that wealthy people use life insurance to retain and create wealth
How to convert an existing life insurance policy into more money than the insurance company valuation
Why you never want to be the owner of a policy that insures you
A huge and common mistake when selecting a life insurance beneficiary
They don't talk about these "insider" strategies on CNBC or in Money magazine. Get the free guide to open up a new horizon of financial awareness.