While you are in retirement, be sure to get one issue resolved - and the sooner the better: discussing with your children how your affairs should be handled and by whom when your disability and death occurs. Of course, these discussions of inheritance planning have little legal bearing as you need to put your wishes on paper - in a trust or will.
Although you may have your "active" retirement life planned out, you need to bring your children on board about finances, long-term care, insurance, and perhaps housing when attending to yourself becomes a problem. How can you approach this?
You do not have to make everything known in terms of your exact finances if you do not want to. But you do have to groom your children - or at least one of them - for stepping in when you are not able to take care for yourself well, make competent decisions, or die.
You can begin by discussing your intentions or just an opinion about how you would like long-term care handled for you at various levels of mental and physical disability. Speaking with them may bring out their concerns for you and other options they may have for you.
You may list out your sources of income - Social Security, pension, or one or several IRAs - that you rely on. Again, you do not need to discuss just how much you have, but they should know where your living expenses are coming from, how you hold your wealth, and how to take charge of them when the time comes.
Let them know what important documents you have and where they are located. These may include your will, house papers, trusts, insurance policies, investment papers, etc. Make sure they have access to them when they need to. You legacy to them may be diminished by what they cannot find!
You may suggest how assets would be divided and according to what type of device - a will or trust. Attempting this may cause you to update and create documents that are more appropriate.
If you feel that discussing some of these matters are not appropriate until your death, you can talk to a financial expert, lawyer, or trusted friend, or sibling in whom you can confide. That way he or she may best explain the situation to your children when you cannot or after you die.
Lastly, do not wait until it is too late to get these things aired. Too often we procrastinate on things that really matter. Do it now while you are in good health and are well in control of your finances and "doings". Just breaking the ice on these matters may often present options you were not aware of.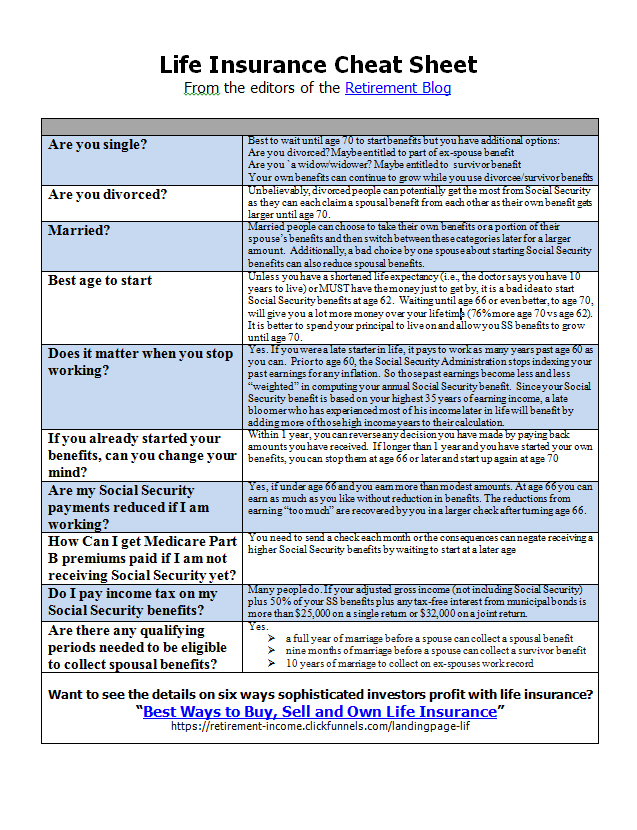 Everything You Don't Know About How to Use Life Insurance to Make Money
Five ways that wealthy people use life insurance to retain and create wealth
How to convert an existing life insurance policy into more money than the insurance company valuation
Why you never want to be the owner of a policy that insures you
A huge and common mistake when selecting a life insurance beneficiary
They don't talk about these "insider" strategies on CNBC or in Money magazine. Get the free guide to open up a new horizon of financial awareness.