Financial downturns, hard times, or simply bad planning could make you wander how to retire early. Take heart. By entertaining the question "how to retire early", you may realize that forgoing the idea of early retirement is best. Specifically, delaying retirement may considerably increase your forecasted retirement revenue bringing you more enjoyment of these golden years. Let's discover why ignoring the possibility of how to retire early may be to your advantage.
You may have underestimated the amount of retirement resources you'd need. In fact, a MetLife Mature Market Institute research showed that six in 10 Americans (60%) miscalculate retirement longevity and almost half (49%) undervalue the amount of retirement revenue they'll need as soon as they retire. The table shows that mistaking your life-span from birth rather than from sixty five will cause you to under-estimate your retirement time horizon considerably.
Current Life Expectancy Estimate vs From Birth and  Age 65

Source:  National Vital Statistics Report, Vol. 56, No. 10

Life expectancy from birth
Life expectancy from 65
% Increase beyond 65
Men
75.2

(10.2 beyond 65)

82.2

(17.2 beyond 65)

69%

(extra 7 years)

Women
80.4

(15.4 beyond 65)

85

(20 beyond 65)

30%

(extra 4.6 years)
But not only will you'll need your retirement savings to last more, but inflation will have more time to eat away at your purchasing power. If inflation is 3% a year-its historical average-it will cut the purchasing power of a fixed annual retirement income in half in roughly 23 years. Therefore, your investments should be greater to deal with the effects of inflation too. By now, you might be rethinking the question  of how to retire early may not be one worth asking.
Other considerations when pondering how to retire early:
Pension Consideration: If you expect to receive pension payments, early retirement might adversely affect them. Usually, pension benefits are biased toward your last working years - and those should be your greatest earnings. Delaying retirement extends your highest salary for more years.
Social Security Consideration: At your Full Retirement Age (FRA) (which varies from 65 to sixty seven, depending on the year you were born), you can receive your complete Social Security retirement benefit. But when you opt early retirement, to obtain your advantages before your FRA, your benefits will be diminished by approximately 25% if you begin at 62.
Savings Consideration: Even when you do not add to your retirement savings, forgoing early retirement postpones the date that you will require to start pulling cash form financial resources. This alone can enhance your savings fund's ability to last throughout your lifetime because a few years of extra portfolio growth can be significant.
Consider the following.  In the event you saved $15,000 each year with an 8% annual compounding rate for just five years, you'd add $95,040 more to your savings. For just ten years, you'd add $234,675 more. (These are theoretical examples and not intended to reveal the real efficiency of any particular investment). These would increase your retirement revenue to ward off the effects of inflation or simply add to your financial comfort.
Postponing retirement not only provides more retirement income form a larger nest egg, it leaves you fewer years in retirement which permits greater income withdrawal rates.
Keep in mind that the question of how to retire early was never asked until about 1970. Prior to then, no one had such luxury to even consider it.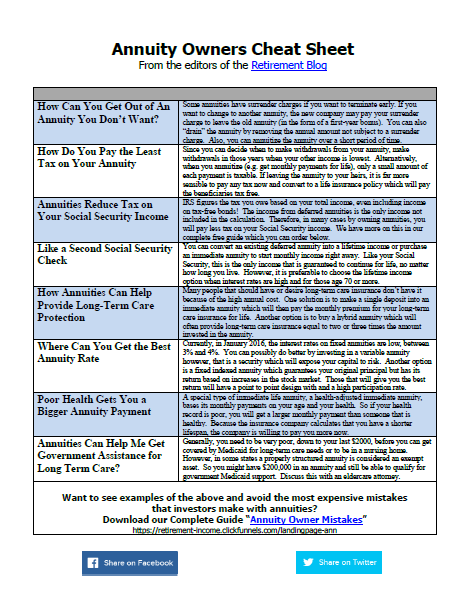 Most Annuity Owners Make This Mistake
To get wealthy, invest like the wealthy
Why the wealthy steer clear of mutual funds
How the rich systematically make money in the market
Key metrics that differentiate good and bad investments
A comparison of ETFs and separately managed accounts you have never seen
Stop making the same investing mistakes as everyone else who listens to CNBC and reads Money Magazine. Do what the rich do! Free guide explains how they think and make investment choices.