Discounts, financing for extended periods of time, low financing rates and such other inducements are offered as part of the marketing strategy by automakers to sell or lease a new vehicle. As these approaches are found rewarding for increasing sales, many companies offering fixed annuities also  introduce various incentive schemes to tempt the prospective customer into buying their annuity. One of the most commonly used promotion strategy is holding out the bonus rate.  But unless you are guarded, you might end up not getting what you expected.  In return for the extra interest of a bonus rate, you often give up other benefits.
The common practice is to offer fixed annuities with a bonus rate during the first year or the first few years after you buy the fixed annuity and this can meaningfully increase the initial return. Besides, the bonus inflates the annuity's principal amount on which future interest will be paid. Therefore, it is clear that a bonus can enhance the overall yield during the tenure of the contract.
For instance, let's assume you invest $80,000 and the  fixed annuity offers an additional 4% interest at the time of deposit (4% x $80,000 = $3200).  Thus, all future interest payments will be on $82,200 – which is tempting indeed!
But the fact remains that the companies offering fixed annuities offer the bonus presumably because you are expected to keep the contract for a minimum period of 10 years. it is quite common that fixed annuities which offer bonus rates have longer surrender schedules and higher surrender charges then annuities without bonus rates.If you prematurely withdraw your investment in less than 10 years, you may be subject to surrender charges that would more than negate the bonus you had received. Further, some fixed annuities that provide significant bonuses may be devoid of some valuable features like exemption from of surrender charges for terminal illness or nursing house confinement.
Please know that the companies offering fixed annuities - to offset the bonus element - may provide unattractive annuity rates after the first year.  And the fact is you are trapped into the fixed annuity contract for another 9 years because of the 10 year contract period. Otherwise, you will have to pay heavy surrender penalties should you choose you withdraw.
There can be no doubt that the return on your investment is crucial and a bonus can be a good booster. But for that reason, it is not prudent to disregard the financial soundness of the annuity company, the other benefits that fixed annuities can possibly provide, the annuity company's interest rate track record and how completely the insurance agnet recommending the fixed annuity realizes your financial position.
You must be aware of the saying 'there is no such thing as a free lunch'.  That should make you realize that bonus fixed annuities will invariably carry higher fees and charges than annuities without a bonus offer.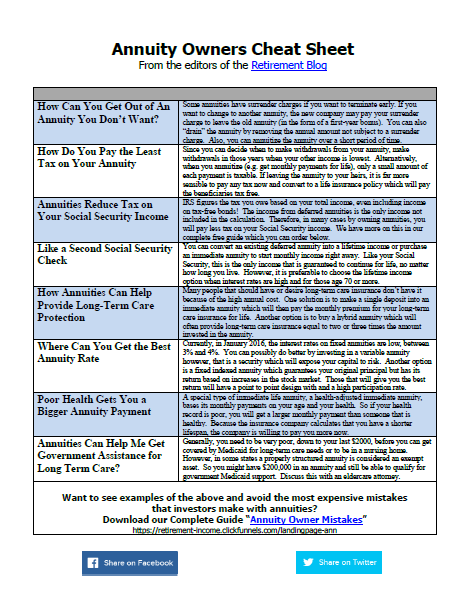 Most Annuity Owners Make This Mistake
To get wealthy, invest like the wealthy
Why the wealthy steer clear of mutual funds
How the rich systematically make money in the market
Key metrics that differentiate good and bad investments
A comparison of ETFs and separately managed accounts you have never seen
Stop making the same investing mistakes as everyone else who listens to CNBC and reads Money Magazine. Do what the rich do! Free guide explains how they think and make investment choices.