There are at least four things that may possibly impact the return you receive on fixed annuities:
• Market interest rates
• Budget deficits
• Income tax rates
• Competition between companies
Of these, interest rates probably have the greatest bearing, and this can even be more critical whenever entering a period of rising inflation and higher interest rates. For instance, many annuity companies offer fixed annuities with multi-year guarantees (MYGA) whether rates are falling or rising. When interest rates go up, MYGAs can become even more attractive since their rates climb too (at renewal time).
Budget deficits can also affect your fixed annuities performance.  When deficits are high, the government may need to borrow more money to finance its debt.  That means it is competing with other borrowers—corporations, municipalities, and you—for the lowest possible interest rate on the money it needs to borrow.  This could have the effect of driving interest rates up (but not always as the period from 2008 until now).  If you are considering a fixed annuity in such a scenario, get a contract that allows you to participate in rising rates. Alternatively, invest some money this year, wait 12 months and assuming rates have risen, invest in another fixed annuity etc.
The earnings on fixed annuities accumulate tax-deferred. This means that you or your beneficiaries will not have to pay income tax until the money is removed from the account. Of course, these annuities are designed for long-term investing, and ordinary federal income taxes and a 10% tax penalty could apply to withdrawals taken prior to age 59½.  Should tax rates rise (for example, as a means to close the budget deficit), this makes the money in existing fixed annuities worth less upon withdrawal.  It may be a consideration to begin withdrawing funds now if you anticipate being in a higher tax bracket later.
Rate competition between fixed annuity companies can sometimes result in opportunities for you to receive a higher return on your money through bonus rates, but you have to know what to look for. For example, how safe is the company, what is the renewal rate history, what is its Moodys or S&P Financial Strength rating, and what are the withdrawal options?  As fixed annuity guarantees and benefits are subject to the claims-paying ability of the annuity company, financial stability is very important to consider.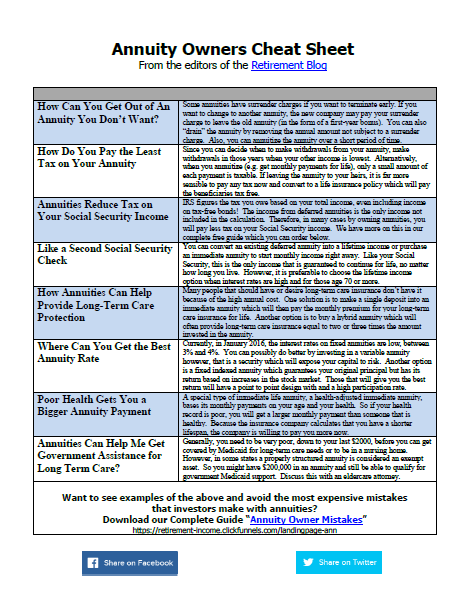 Most Annuity Owners Make This Mistake
To get wealthy, invest like the wealthy
Why the wealthy steer clear of mutual funds
How the rich systematically make money in the market
Key metrics that differentiate good and bad investments
A comparison of ETFs and separately managed accounts you have never seen
Stop making the same investing mistakes as everyone else who listens to CNBC and reads Money Magazine. Do what the rich do! Free guide explains how they think and make investment choices.