A rollover IRA is a retirement account that you can use to consolidate the funds you've set aside in various other retirement accounts. Bringing your funds together can give you access to a wider range of investment options and will make the management of your investments much easier. This way, if your retirement savings goals change, you can change the strategy for the management of your money quickly and easily. And make no mistake – your goals will change as your life changes.
A rollover IRA is also known as a target IRA by most financial professionals. What this means for you is that this is the IRA where your money is going to wind up – regardless of where it came from, it's the target or destination of the IRA rollover. Be aware when you're considering a rollover IRA that some types of IRAs can't accept funds from other types of IRAs. Therefore, you'll want to choose a rollover IRA that is of a type that can accept money from all of your old accounts (or, if not all, at least the majority of them).
If you haven't already, this would be an ideal time to enlist the services of a financial professional. Many of the current IRA rollover rules can be very complex, and simple missteps in the IRA rollover process can lead to significant costs, in terms of unnecessary taxes, fees or penalties. This really isn't an arena that you'll want to walk into by yourself.
Once you've determined the type of rollover IRA to set up, the next thing to remember is that in almost every instance, you want to request an IRA direct rollover. As the name implies, this type of transfer occurs when money is moved directly from the administrator of one account to the administrator of the other. The money never comes into your hands. This is vital to protect the tax status of the money you've accumulated thus far. Once you take possession of your money, it can be classified as a withdrawal or a distribution. In that instant, you are subject to mandatory withholding – usually 20% of your account balance – as well as taxes and penalties.
To initiate an IRA direct rollover, contact the administrator of your target IRA and tell him or her to perform an IRA direct rollover; use those exact words. This will begin a legally defined process whereby the administrator of the target IRA will contact his or her counterpart at the old IRA and arrange for the transfer the money, typically using a check or a wire transfer. There will be some paperwork associated with this, but the administrator will be able to help with any questions you may have.
Following these simple rules, you'll be able to use the rollover IRA process to both consolidate your funds and maximize your control over them. This way, as changes in your life necessitate changes in your retirement goals and strategies, you'll have easier access to your retirement savings to make those changes.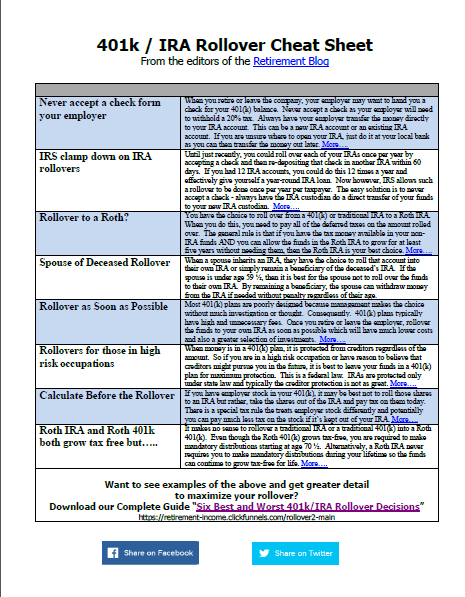 Lose a Fortune on Your 401k Rollover
If you do not do any of these correctly:
Opt for a distribution rather than direct transfer
Rollover company stock to an IRA
Choose to rollover to a Roth IRA
Rollover to your new employer's 401k
Rollover post-tax contributions
This is just a handful of the MANY mistakes IRS waits for you to make with your rollover. Avoid them when moving your retirement finds. Get the One-Page "401k Rollover Cheat Sheet" now and keep your money!