How you Use or Spend Your Savings Determines how much Retirement Tax You Pay
When it comes time to tap your savings and investment accounts, investors often ignore which source should come first for retirement distributions. In general, many experts often advise investors to draw from their taxable accounts first, then tap qualified accounts such as IRAs and 401(k)s further down the road.
There is a logical reason for this – prolonging withdrawals from your qualified accounts or tax sheltered accounts gives these assets additional time to grow with the benefit of tax-deferral. There are other reasons why this strategy for retirement distributions could be efficient from a federal income tax perspective.
Let's say that you have three sources of investment funds: a regular taxable account (which could hold individual stocks, bonds, or mutual funds,) and two qualified accounts: a traditional IRA and a Roth IRA. What happens if you tap your traditional IRA? First, all retirement distreibutions from a traditional IRA are taxed at your current ordinary income tax rate. Second, a 10% federal income tax penalty will usually apply to traditional IRA withdrawals taken prior to age 59½ (subject to a few limited exceptions explained in IRS Publication 590, among the exceptions include but are not limited to withdrawals for qualified higher education expenses, first-time home buyer, and medical insurance premiums for certain unemployed taxpayers, and withdrawals taken by disabled taxpayers).
What about retirement distributions from a Roth IRA? First, your principal contributions from the Roth can be withdrawn without occurring any tax. Additionally, any withdrawals from your Roth are first treated as being taken from your principal. Should you have to tap into your earnings, these withdrawals are subject to ordinary income taxes at your respective tax rate. And if you are less than 59 ½ years of age 'or' you do not hold the Roth for more than five years, the distribution could also be subject to the 10% federal income tax penalty.
However, by leaving the money in the Traditional and Roth IRAs, you have the opportunity to accumulate tax-deferred investment growth over the life of both the owner and the beneficiaries. Assuming the age and holding period requirements are met, all Roth retirement distributions also come out free of future federal income taxes to the account owner as well as the beneficiaries.
What if you tap your taxable account first? First, you will owe taxes on any capital gains you realize from the sale of investments in this portfolio. Assuming you have held the asset for more than one-year, your rate will be lower than your current income tax rate (0% for taxpayers in 10-15% brackets; 15% for all tax brackets exceeding 15%). You might also be able to offset any capital gains with capital losses, which can soften the blow of your annual tax bill.
As you gradually tap your taxable account, the distributions you receive from these investments will slowly recede as well, thus lowering your tax burden from dividends and capital gains paid to you. Moreover, your qualified accounts could potentially have longer time to grow with the power of tax-deferral, which could enhance the value of your qualified retirement funds.
Eventually, you will have to take required minimum distributions from your traditional IRA, once you reach age 70½. Although these retirement distributions will be taxed at your ordinary income tax rate, you could be in a lower tax bracket by then. As previously mentioned, these distributions are taken, in many cases, over the life expectancies of the owner and the beneficiaries. On the other hand, traditional IRAs do not receive a step-up in income-tax basis when they are transferred to younger beneficiaries at the owner's death. Although there is something to be said about the power of deferring taxes, one should also consider future income tax consequences to younger family members before making a decision.
Assuming you have assets in Roth IRAs, you should know that minimum distributions are not required. In view of this and the fact that retirement distributions will come out free of federal income taxes (assuming the age and holding period rules are met), you may want to consider your Roth assets as your source of last resort.
Deciding which account to tap first depends on your financial and tax situation now and during your retirement years.   In general, leave your IRA and qualified accounts to grow but don't proceed with this advice until you have had a tax consultant or retirement advisor confirm.
Retirement Advisors who can assist Seniors: ProspectMatch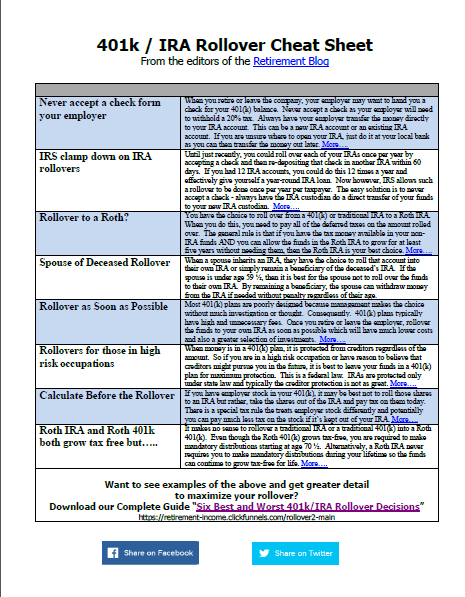 Lose a Fortune on Your 401k Rollover
If you do not do any of these correctly:
Opt for a distribution rather than direct transfer
Rollover company stock to an IRA
Choose to rollover to a Roth IRA
Rollover to your new employer's 401k
Rollover post-tax contributions
This is just a handful of the MANY mistakes IRS waits for you to make with your rollover. Avoid them when moving your retirement finds. Get the One-Page "401k Rollover Cheat Sheet" now and keep your money!