Some people think they should invest their retirement money more conservatively than other funds.  In fact, this is not true because the dollar in your pocket is just as important as the dollar in your rollover IRAs.  In fact, there is a compelling tax reason that argues to invest funds in rollover IRAs more aggressively than your non tax-sheltered money.
Money in IRAs gets taxed at ordinary income rates when withdrawn (i.e tax rates up to 35%). No matter what types of investments you own, they get taxed the same.  However, outside of rollover IRAs or any type of retirement account, different investments get taxed differently.  For example, if you hold a stock for a year and sell it, your profit gets taxed at capital gains rates (top rate is now 15%).  Also, most dividends on stocks are taxed at 15%.  But if you own bonds or bank CDs, the interest you receive is taxed as ordinary income (up to 35%). So if some investments get preferential tax treatment outside of rollover IRAs and others do not, would it make sense to keep these tax preferred investment out of your retirement account?
It's well worth it to do some tax planning with your retirement advisor as the right choices could earn you thousands of dollars in taxes saved in rollover IRAs. Managing your retirement funds for the long term isn't something that really should be approached lightly, in particular as Societal Security and Medicare are widely anticipated to be insolvent in the next 20-30 years.  Whether you have 3 decades to retire or are facing retirement by 2015, the actuality is that you will be forced to foot a larger part of your retirement cost and not depend on the government.  That's why picking out the best choice options for the Rollover IRAs is so critical.
If you have two or more decades for your rollover IRAs to grow, you want to invest your money aggressively. At least you want to have most of not all of your funds in stocks or stock mutual funds and stay away from bonds bank accounts or money market funds. These more conservative options simply don't provide enough growth potential. While the stock market is volatile, over two decades the volatility near-term does not matter.
On the other hand, in case you're nearing the golden age, you'll want to own a more significant percentage of investments in more conservative options, like bonds or CDs.  This will likely make sure that the money you invested as part of your Rollover IRAs is still there when you need it in retirement.  The economic disaster of 2008 and 2009 highlighted the very fact that many seniors had inappropriately allocated funds in rollover IRAs to riskier stocks and ETFs, which made them far more vulnerable to market fluctuations and near-term losses.
In addition to your allocation for appropriate risk, here are the other investment considerations for rollover IRAs:
Costs and expenses.  When placing money into mutual funds and ETFs, look for alternatives that offer you the lowest expenses.  Specifically, look for funds that are no-load and have and low expenses.
Morningstar rankings.  Ideally, each and every of the specific investments in your Rollover IRA account must have a very high Morningstar ranking, so be sure to check just about every funding solution's rating ahead of committing in it.
Past volatility.  Even though historical performance isn't a guarantee of how the investment selection will carry do in the future, you will get a sense of how risky or volatile the investment may be from its past
Invest some time for enhancing performance and results with your rollover IRAs.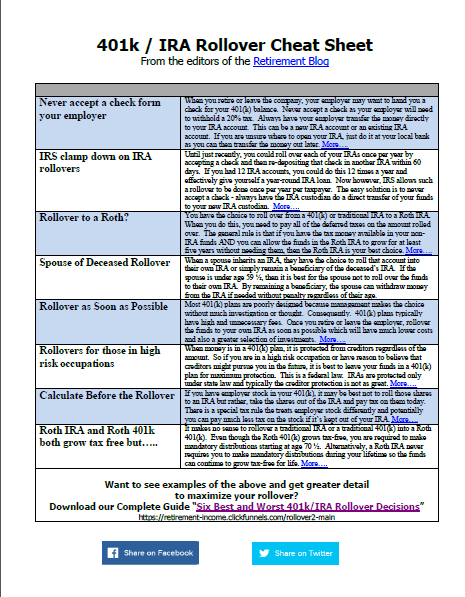 Lose a Fortune on Your 401k Rollover
If you do not do any of these correctly:
Opt for a distribution rather than direct transfer
Rollover company stock to an IRA
Choose to rollover to a Roth IRA
Rollover to your new employer's 401k
Rollover post-tax contributions
This is just a handful of the MANY mistakes IRS waits for you to make with your rollover. Avoid them when moving your retirement finds. Get the One-Page "401k Rollover Cheat Sheet" now and keep your money!