If you're in the process of assessing your retirement savings account, you should at least consider moving some or all of your resources into a Roth IRA via 401k rollovers. Although these types of savings accounts aren't right for everyone, they provide a number of different advantages that make them worthy of consideration. Here's why you should consider Roth 401k rollovers:
Contributions to Roth IRAs are made on a post-tax basis, therefore any withdrawals you make within retirement come out tax-free.
Roth accounts are certainly not tied to minimum distribution needs, which means you can keep your pension savings intact for as long as you want.
Roth investments can be left for your heirs on a more favorable basis than retirement resources held in traditional 401k accounts or even traditional IRAs (i.e. the heirs will inherit tax free money)
If you currently hold cash in a traditional 401k, you can transfer it to a Roth IRA via a process known as 401k rollovers. This course of action isn't complicated, but it is important that you observe the details of the transaction to ensure everything runs smoothly.
However, when you begin the actual paperwork for 401k rollovers, you will possibly have an option to move your current retirement savings into a new employer-sponsored Roth account (i.e. move funds from your old 401k to a Roth 401k). In almost all situations, it's best to avoid this option and work with a private Roth account service provider instead. Employer-sponsored retirement plans tend to be notoriously limited in terms of their own investment options, contain more fees than necessary and provide no substantive advantage over an individual account.
The initial step of 401k rollovers is to find the account provider that will keep your new Roth IRA and get the funds from your ex-employer. There are several different retirement savings account vendors available today, so it's important to consider them carefully to find the best one for your needs.
For example, your local bank, local credit union, online financial institutions, mutual funs company, brokerage companies along with your insurance company are just a few areas to start.  Although the competency of the individuals varies from institution to institution, generally the online discount brokerages and mutual fund companies seem to have the most competent and knowledgeable people in their retirement plan departments. Local banks seem to be the worst.
Once you have a few 401k rollover providers identified, you can start to be able to narrow down your list. First, look at the number of different investment choices you'll have access to. Private brokerage houses most often have the advantage here, although various other financial institutions have dramatically elevated their offerings recently too. Working with a personal 401k rollovers account provider provides you with access to many more investment options, some of which will likely carry batter rates of return as compared to anything in your employer-sponsored plan's portfolio.
In choosing private 401k rollovers accounts provider, there are a number of different issues you should consider.
You'll also want to consider the customer service you obtain when you interact with each possible provider. Remember, these are the individuals who will be assisting you throughout the 401k rollovers process and ultimately handling your hard earned retirement savings. For that reason, it's important to find an account supplier you trust before beginning 401k rollovers.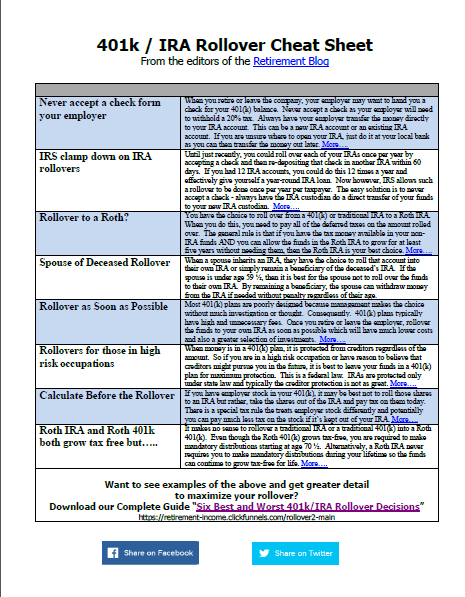 Lose a Fortune on Your 401k Rollover
If you do not do any of these correctly:
Opt for a distribution rather than direct transfer
Rollover company stock to an IRA
Choose to rollover to a Roth IRA
Rollover to your new employer's 401k
Rollover post-tax contributions
This is just a handful of the MANY mistakes IRS waits for you to make with your rollover. Avoid them when moving your retirement finds. Get the One-Page "401k Rollover Cheat Sheet" now and keep your money!